Graham Salter
Oboe
Books,
Tools
and
Accessories
For Sale
For Sale
Unused Web name:
www.oboe.pro
Please Contact Me if interested.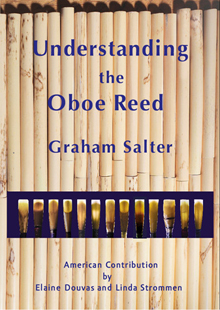 Over many years I have acquired a vast range of reed-making equipment, much of it for the sake of comparison whilst writing Understanding the Oboe Reed. This page will be renewed from time to time to show additional items that are no longer needed and are now For Sale.
Please email me with requests for a secure address at PayPal.
Please note: no trials and returns unless by special arrangement
(e.g. rare cor anglais crooks – yet to appear).
I am pleased to offer FREE POSTAGE in every instance.
OBOE BOOKS FOR SALE
C.J. Nederveen: Acoustical Aspects of Woodwind Instruments £20.10 including free UK postage. (New price: £ 22.80)
This classic study, now revised and updated, shows how scientific calculations can be used to improve the understanding, design, and tuning of woodwind instruments. A powerful tool for correcting tuning errors in existing instruments and for creating new designs, Nederveen's work has long been a standard in the field of acoustics. In an extended new chapter, Nederveen analyzes and interprets recent developmeents in research on the acoustics of woodwind instruments. This revised edition, which also contains a new list of symbols and a new subject index, is a necessity for scholars, teachers, and practitioners of music, physics, acoustics....
Jay Light: The Oboe Reed Book. £30.50 including free UK postage. (New price: £ 47.50)
"A straight-talking guide to making [American] oboe reeds." A clean copy, paper mildly aged.
Robert Sprenkle and David Ledet: The Art of Oboe Playing, £ 14.00 including free UK postage. (New price £16.50) A totally clean copy.